MAFSender - Bulk Whatsapp Marketing Software Price 3000/. Rs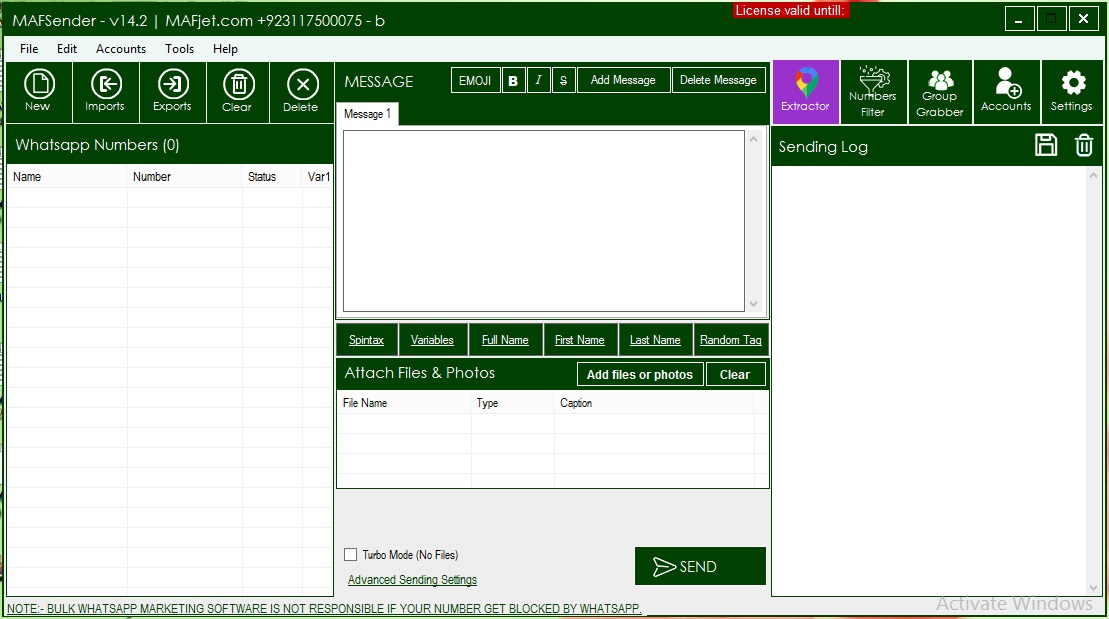 WELCOME TO BULK WHATSAPP Marketing SOFTWARE BY MAFjet
MAFSender Bulk WhatsApp marketing software is a message sending tool that allows you to automatically send bulk WhatsApp messages to thousands of customers daily.
MAFjet provides a new channel for you to reach your customers using WhatsApp Marketing. You can broadcast your images, bulk messages, emoji icon, and shop locations directly to your customers on their smartphones. A very new efficient way of Mobile Marketing. Our Bulk WhatsApp Sender Software Supports Multiple Languages such as English, Arabic, Urdu, Spanish, French & Portuguese for marketing.
We also provide another marketing service which includes Facebook page likes, branded SMS and youtube subscribers
How does WhatsApp Marketing Tool Works?
1️⃣
Import Phone Numbers
Import numbers from any of your existing files such as Excel sheets etc. You can even copy-paste numbers.
2️⃣
Create Message
Type your message in the message box which you want to send for bulk WhatsApp marketing. You can also attach media with it
3️⃣
Send Message
Click on the Send button to "bulk WhatsApp" your message to the numbers you selected.
Bank Details
Bank Transfer  Name: MAFjet Ltd Bank: Alfalah bank A/C No: 55965001399904 IBAN: PK97ALFH5596005001399904 Branch: Gulbahar Branch
Other Methods
EasyPaisa/Jazzcash:
Ac/No: 03117500075 Name: Muhammad Aizaz Fazil
PayPal: [email protected]
(FnF Only)

Software Screenshots
For further details please contact us
via whatsapp +92 3117500075